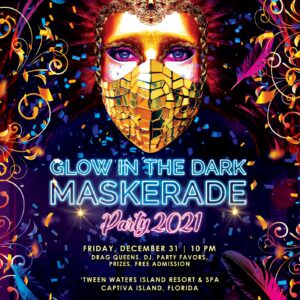 As the year begins to wind down, it's the best time to take a moment and look back at all the awesome things you accomplished. Maybe you finished that project you've been putting off, or graduated from school, got a promotion at your job, bought a new car or home. 
Whatever the case, and despite the many challenges we've faced this year, so many things made 2021 incredible that we believe it calls for a celebration. And there's no better celebration than at our sister resort, 'Tween Waters Island Resort & Spa's New Years Glow in the Dark Maskerade! This year's bash is open to the public with wrist band after 10 pm, so if you're staying with us you'll get in for free!
The last party of 2021 will take place at The Official Resort of Captiva Island's very own Crow's Nest Bar & Grille. This year, they'll be featuring a live DJ who'll be spinning beats throughout the evening, dishing out party favors like they're going out of style, and, of course, the most famous Drag Queens in Southwest Florida will be in attendance! 
But there's more! Their Maskerade party will be having a contest where you can not only participate in, but also win big! This year's theme is Glow in the Dark, and guests are encouraged to make their masks as creative and fun as possible. The top three masks will win:
First place – $500 cash.

Second place – a gift card for $200.

Third place – a $100 gift card and a bottle of champagne. 
Say goodbye to 2021 at the best party of the year! Make your plans today by booking a room here or calling us at 800.824.0476. Or you can make a reservation at Crow's Nest here.